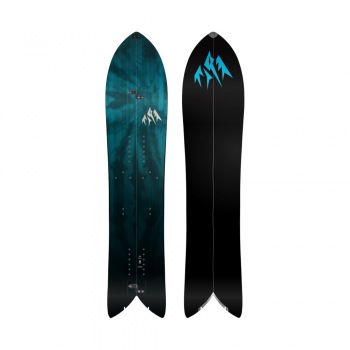 Storm Chaser Split
The otherworldly performance of the Storm Chaser could not be contained to just the resort boundaries. The Storm Chaser Splitboard unlocks access to those remote frozen swells and packs insane float into a short, but still high volume board. The ultra-wide waist width maximizes the float of the shortened running length and the Surf Rocker profile pops the nose even further out of the snow when you step on the gas. Turn your tightest tree runs into a GS course on this nimble stick on even the deepest days. The Storm Chaser Splitboard features the Boltless Bridge which eliminates base hardware and Karakoram ultra clips for improved connection between board halves.

Features:

Flip Flop Base - By flip flopping the base graphic colors, P-Tex waste is drastically reduced by increasing the material yield.

Sintered 9900 - Made from Ultra-High Molecular Weight ­Polyethylene (UHMW-PE) and Carbon. This ultra-fast base is easy to repair thanks to the UHMW-PE.

Wend Natural Wax - Jones boards are ready to shred straight out of the shop and are factory waxed with WEND natural wax.

Bamboo Surf Core - Our new triple density Bamboo Surf wood core that has bamboo stringers positioned in the pocket of the sidecut for better edge response and turn power.

Biax Fiberglass - A dual-direction, dual-layer, stitched fiberglass laminate that provides a fun, forgiving and snappy ride.

Factory Tuned - All Jones Snowboards are factory de-tuned at the tip and tail so you can go right from the shop to the mountain.

Recycled ABS Sidewalls - ABS Plastic is one of the necessary evils of snowboard production. We improve the sustainability of our snowboards by using only recycled plastic.

Oversized Recycled Edges - All Jones boards are made with oversized recycled steel edges for added durability and improved production sustainability.

Karakoram Ultra Clip - ULTRA clips are lower profile, stronger and increase compression between board halves.

Stainless Steel Hardware - Stainless steel plates are embedded into the nose and tail for improved board tip durability.

Eco-Plastic Topsheet - Bio-plastic topsheet made from Castor beans. This eco-material is ultralight, chip/scratch resistant and water/snow repellent (snow sticks less to topsheet).

Quick Tension Tail Clip - The Quick Tension Tail Clip is designed for 2018 Jones Splitboards except the Discovery Split. All Jones Splitboards (except Discovery Split) now feature a notch cut into the tail of both skis that allows the Quick Tension Tail Clip fastener to simply slide into the notch and secure the skin.

First Prototype - The first template of the Storm Chaser was a thin piece of wood hand drawn and cut by Chris Christenson and Jeremy Jones in Jeremy's garage. They used Chris' surf shaping tools to outline the shape and rocker profile. The hand written notes delineate subtle rocker contours and dimensions.