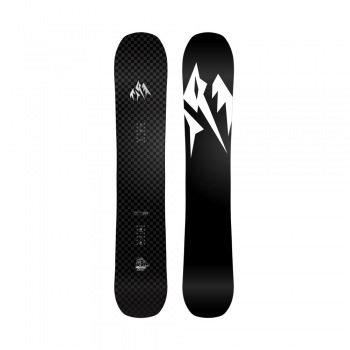 Carbon Flagship
The Carbon Flagship crushes terrain unlike any freeride board you've ever experienced. This is a seriously stiff, competition-ready weapon that's built to be chatter free at ludicrous speeds and stable enough to stomp the biggest airs. The Carbon Flagship features cutting edge construction and materials including two layers of Textreme Carbon Fiber and the Spoon 3.0 Nose and Tail. The edges of the Spoon nose are beveled up for improved float and turn fluidity while the tail edges are beveled up for less catch. New for 2018, the Carbon Flagship has a limited edition, hand numbered serial badge and the Power Core has been re-profiled for better torsional response between the feet.

Features:

Flip Flop Base - By flip flopping the base graphic colors, P-Tex waste is drastically reduced by increasing the material yield.

Wend Natural Wax - Jones boards are ready to shred straight out of the shop and are factory waxed with WEND natural wax.

Sintered Ultra Base - World Cup proven race base made from ­Ultra-High Molecular Weight Polyethylene (UHMW-PE) modified with special Fluoro and Paraffin based additives for better glide and increased durability. ULTRA base is harder and faster than any other ­sintered base.

Power Core - Triple-density full wood core featuring hardwood bamboo stringers for added pop and durability plus paulownia for weight savings.

TeXtreme® Carbon - Specially designed carbon fiber (12k non crimp fabric) that is podium proven in the America's Cup and Tour De France. TeXtreme achieves a weight savings of about 20-30% compared to conventional ­carbon fiber.

Factory Tuned - All Jones Snowboards are factory de-tuned at the tip and tail so you can go right from the shop to the mountain.

Recycled ABS Sidewalls - ABS Plastic is one of the necessary evils of snowboard production. We improve the sustainability of our snowboards by using only recycled plastic.

Oversized Recycled Edges - All Jones boards are made with oversized recycled steel edges for added durability and improved production sustainability.

Fusion Tech - Jones exclusive production process allows traditional topsheet layer to be replaced with ultra durable epoxy layer saving weight and material.

Carbon Construction - The Carbon Series are the most high performance boards we produce. They are designed to meet the demands of ground breaking riders who push the limits of what's possible on a snowboard. If you ride confidently and chase serious new chal- lenges on your snowboard, these are the boards you're looking for.