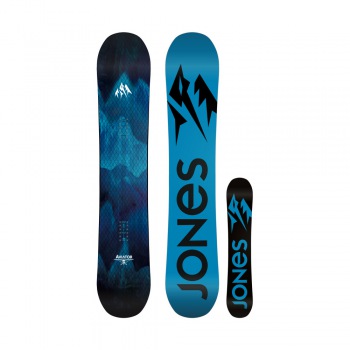 Aviator
PARAMETRY
Určení
All-mountain Freestyle
Cena 14 850 Kč
Equally at home in the park, pipe, pow or steeps, the Aviator is an elite all-mountain freestyle board built for premier stability in the air and unmatched edge grip. The nimble handling and supersonic acceleration of the Aviator result from the Spoon 2.0 Nose and Tail plus the Power Camber profile. The Power Camber between the contact points keeps you locked in and railing hard while the Spoon nose and tail eliminate catch and improve turn fluidity. For added ECO-performance, the Aviator features a ECO-plastic topsheet made from castor beans. New for 2018, we used a Technora® fiber layer under the topsheet for supreme torsional stiffness and lightning fast response to any rider energy input.

Features:

Flip Flop Base - By flip flopping the base graphic colors, P-Tex waste is drastically reduced by increasing the material yield.

Sintered 9900 - Made from Ultra-High Molecular Weight ­Polyethylene (UHMW-PE) and Carbon. This ultra-fast base is easy to repair thanks to the UHMW-PE.

Wend Natural Wax - Jones boards are ready to shred straight out of the shop and are factory waxed with WEND natural wax.

Power Core - Triple-density full wood core featuring hardwood bamboo stringers for added pop and durability plus paulownia for weight savings.

Triax Fiberglass - Multi-axis, stitched fiberglass laminate that offers a precise and responsive ride in any ­terrain or snow conditions.

Technora® Fiber - A multi-layered aramid fiber that absorbs shock and improves pop. The fiber's diamond pattern adds strenght and torsional stiffness.

Factory Tuned - All Jones Snowboards are factory de-tuned at the tip and tail so you can go right from the shop to the mountain.

Recycled ABS Sidewalls - ABS Plastic is one of the necessary evils of snowboard production. We improve the sustainability of our snowboards by using only recycled plastic.

Oversized Recycled Edges - All Jones boards are made with oversized recycled steel edges for added durability and improved production sustainability.

Fiberglass Reinforcement - Fiberglass layer improve pop in nose and tail plus increases the longevity of the flex profile. This lightweight layer helps the board perform the same on day 100 as it did on day one - precise and playful.

Carbon Stringers - Carbon stringers add torsional stiffness for improved response and increased pop. Carbon layer keeps flex profile dimensionally stable for a consistent ride for the lifetime of the board.

Eco-Plastic Topsheet - Bio-plastic topsheet made from Castor beans. This eco-material is ultralight, chip/scratch resistant and water/snow repellent (snow sticks less to topsheet).